Wallpaper
Designing your perfect dream home is a process starting from the floor all the way to your ceiling, and at Irvine Carpet One Floor & Home in Barrie we have you covered. You've picked out the perfect floor, have a layout in mind for your furniture, but that last thing you thought of was your walls. You could add a bold paint to the wall to call attention, or you could use wallpaper!
Wallpaper is making a comeback and is nothing like the one dimensional wallpaper you remember in Grandma's house. Now, wallpaper comes in neutral colours, bold patterns, textural styles, and the pattern options are all up to you.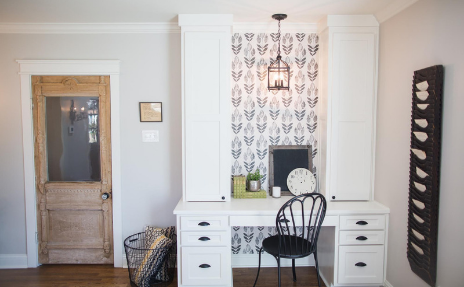 The best places in your home to add wallpaper is almost anywhere! Avoid applying wallpaper in bathrooms, since the humidity will weaken the adhesive. Rooms where wallpaper can really make a statement include bedrooms, living rooms, even powder rooms. You can completely cover your walls in wallpaper, or even apply it to only half the wall. Wallpaper is not just limited to the walls in a room, you can also use wallpaper inside pantry's and linen closets to create a surprise every time you open the door.
If you want to have an accent wall, choose something with a bold pattern. Using wallpaper on an accent wall in a bedroom can anchor major pieces of furniture such as the bed. Wallpaper in powder rooms create a jewel box in your home that will delight guests, and is a great place to start small when designing your home.
Wallpaper Brands
York Wallcoverings promises to offer products of the highest quality combined with the best customer support. York understands the art of design, touching every level of both consumer and interior design professional with a broad range of offerings and design solutions. RoomMates is an extension of York Wallcoverings and offers peel and stick options for quick and easy projects.
Provincial is a division of Brewster Home Fashions and offers products such as wallpaper, wall décor, and feature wall options.
Crown is a proud Canadian distributor that sources innovative, architectural surface solutions that use colour, design and texture to help you truly realize your design vision and brand image.
Be sure to visit our showroom in Excelsior, MN and speak with one of our design experts about wallpapering your home.