Learn About Mannington Adura
Irvine Carpet One Floor & Home is your home to quality luxury vinyl flooring options such as Mannington Adura. Adura combines the looks of real wood and tile with premium performance, so it's perfect for any and every home setting. Let's take a closer look at Adura's appearance, performance, and installation: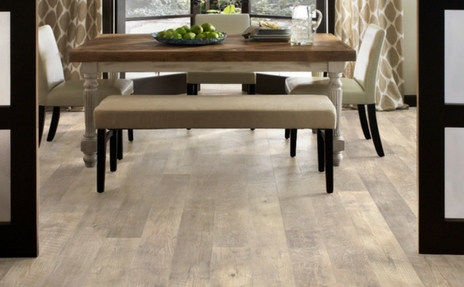 Mannington Adura, like other luxury vinyl flooring options, looks exactly like real wood or stone. For wood looks, be sure to check out Adura vinyl plank flooring. It's available in 4"x36" plank sizes. You can also choose the Adura Distinctive Plank collection, which is available in 5"x48" and 6"x48" plank sizes.
If you're looking to add natural stone looks to your home, Adura is available in 16"x16" squares and 12"x24" rectangles. The luxury vinyl tiles can even be installed with grout for a truly authentic look.
Adura features a luxury vinyl construction, so it can handle moisture and foot traffic much better than traditional hardwood and stone. As a result, Adura can be installed virtually anywhere in the home. Furthermore, Adura features ScratchResist technology on its surface, so it will resist scratches, scuffs, and other surface blemishes.
In addition, because of its resilience, Adura planks and tiles are unlikely to collapse under external pressures like foot traffic and other impacts. Plus, this resilience means that Adura is rather comfortable underfoot.
Installation
There are a few different installation options available with Adura. Adura planks and tiles, for example, can be installed using Mannington's LockSolid installation. With this installation method, the planks and tiles will click and attach together to remain over the subfloor without any nails or glue. The LockSolid method is quicker and easier than traditional installations. For commercial settings and other areas with heavy foot traffic, we recommend the more traditional glue-down method.
Visit Us in Barrie
To check out Mannington Adura first-hand, be sure to visit one of our Barrie, ON showrooms today! We have a great selection of luxury vinyl flooring brands.