Hardwood Installation Services
We provide a great selection of premium hardwood brands and services at Irvine Carpet One Floor & Home in Barrie, ON. To us, a new hardwood floor is an investment, so that is why we offer professional installation services. Our sales professionals and our installers are trained and certified, and we will install any hardwood floor that we sell. We are here to help you begin and end your home project. We make sure you'll find the perfect hardwood floor for your home, and then help answer your installation questions so you'll feel more prepared.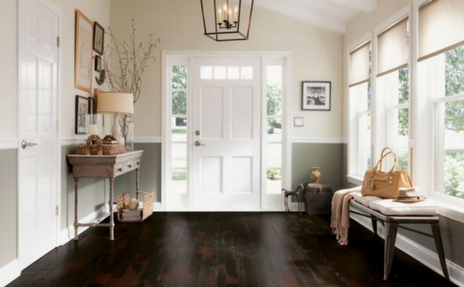 How to Install Hardwood Floors
For hardwood installation, we highly recommend having professional installers put your floors in. Before installation, we come visit your home to get an accurate and professional measurement. Our installers will prepare the subfloor to make sure it's ready for installation by making sure it is dry, flat, and free of imperfections. We do a moisture test in the room you plan on having your floors installed in. This step is very important because you don't want there to be moisture underneath the hardwood planks, which will cause damage over time.
Solid and engineered hardwood floors can be installed in different ways.
Solid hardwood can be installed by either nailing or gluing down the planks. Solid hardwood floors have a tendency to shift over time, so with a more permanent installation it will ensure your planks stay right where they belong.
Engineered hardwood floors come in floating floor systems. Floating floors allow for a lot of versatility, and do not need any adhesives since the planks click together. The layered construction of engineered hardwood also means the planks are extra stable.
Where Can Hardwood Be Installed?
Ideally, hardwood performs best is cool, dry environments in your home. Solid hardwood should be installed in places with relatively low traffic like bedrooms, living rooms, and dining rooms. Since engineered hardwood consists of multiple layers, it is more stable and can be installed in more places around your home. Engineered hardwood can handle areas with a lot of traffic like kitchens and hallways. They can even be installed in basements.
Be sure to avoid installing hardwood in bathrooms and laundry rooms due to excessive moisture and humidity which can damage wood.
Hardwood Installs
Hardwood in Bedrooms

Hardwood will not trap dirt, dust, and allergens, so it is a clean and healthy flooring option for bedrooms. Since hardwood floors add value and style to your home, a hardwood floor in your bedroom will transform your space into a warm personal retreat. Hardwood flooring adds warmth, and bedrooms are the ultimate space for relaxation and comfort.

Hardwood in Living Rooms

Living rooms and hardwood go together perfectly. Hardwood flooring adds value and style to your space, making it warmer and more inviting. Wow you guests with beautiful looking hardwood floors. You hardwood floor can either complement your home décor, or you can update your space with a more trendy hardwood style like rustic weather worn planks.