Armstrong Luxury Vinyl
Armstrong is a household flooring name known for generations and for good reason. The quality and craftsmanship that goes into each piece of flooring is what sets Armstrong apart from the rest of the flooring industry. Armstrong's luxury vinyl flooring collection is no exception to high set standards and exceeds expectations. Irvine Carpet One Floor & Home is your local Armstrong dealer, and we can help you find the perfect luxury vinyl floor for your home.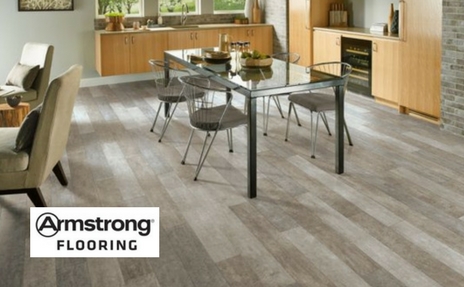 Armstrong luxury vinyl planks stay on trend along with their hardwood collection. Rustic wood flooring is making a comeback, and their Vivero collection has you covered. Rugged, time-worn looks bring an authentic character to all types of spaces, from kitchens to living spaces, rural to urban, or home-style to hipster. Armstrong has captured the texture, visuals, and aesthetic of vintage timber. From saw marks, to knots and the grain, Vivero floors bring a new look to a rediscovered favorite.
There is a certain respect for traditional hardwood floors, traditional styles concentrate on the look of oak, walnut, and birch with on trend colors and added durability. You can transform a room with the timeless beauty of traditional hardwood. Vivero luxury vinyl flooring brings out the appeal of stone flooring. Combining beauty, durability, and low-maintenance, Armstrong has rejuvenated this age old look to fit modern day homes.
Benefits of Armstrong Vivero
Armstrong Vivero flooring incorporates classic and natural beauty into their flooring making it timeless. In addition, they use Diamond10 technology which incorporates real diamonds, combining both beauty and durability so your floors can last for years to come. These floors are scratch and waterproof, standing up to the toughest challenges.
Visit our Barrie showrooms and we can show you our collection of Armstrong luxury vinyl flooring.